Those of you who registered to my newsletter have heard of it already, I discovered the Scrum Master Toolbox Podcast a few months ago.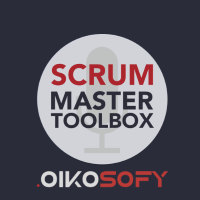 Hosted from Vasco Duarte - an agilist I met in a internal conference back in 2010 - the podcast is composed of 5 episodes that show up every day of the week for about 10 to 15 min each. Day after day it goes through 5 topics that somehow are parts of a Scrum Master's life: failure, teams, recruiting, success and the system.
After discussing now and then with Vasco about Scrum and the #NoEstimates movement on Twitter, he invited me to be a guest on the podcast. We recorded about a month ago and the episodes came out last week.
Here are the different episodes that came out (about 10-15 min each):
It was a really fun first podcast recording experience. Without giving out too many details, Vasco provided me a Script before hand with the 5 key questions he would be asking so that I could gather some thoughts. From there on, we just went on with the flow. It was a bit strange at first, but by the third recording (recording for Wednesday) it really became a discussion with jokes and laughter.
On the content side, it was way harder than I thought it would be. I really had to gather my thoughts beforehand in order to find corresponding examples, stories and ideas that would match the direction Vasco wanted to give the podcast. It was also not easy to verbalize all those things I do pretty much intuitively. Vasco was a great help there, reformulating some of my thoughts on the fly and bringing names on some of my fuzzy ideas. I sure would have liked to talk about other topics like Product Owner - Dev Team interaction or Testing which have been hot for me lately, but that will have to wait for a second series ;)
Technically, I am really sad about my microphone's audio quality. I tried all the microphones I had and it was the best... but I'll have to build a better setup if this was to happen again...
Have you listened to the podcast? What do you think? Comments or feedback? Let me know!