The last time I wrote about my (still) last app "a short notification" was on the 7th of September. Back then, I was reporting on the download numbers after ASN had been the app of the day on myappfree.it.
Downloads over 3 Months
As you can see below, the myappfree.it peak still dwarfs all the rest.

Let's remove the free downloads for a minute and suddenly some paid downloads appear between the peak and the end of the graph (roughly speaking, that's the month of september).

I got about a hundred paid downloads which helped me not understand how the whole thing works. After Microsoft took its cut (30% of the base price), after the USA took their cut (30% on the rest) and after Microsoft paid the taxes for me in Europe (and some other countries?), I seem to have a 62-ish-€ balance on my account. On the other hand, it seems that I am responsible to pay taxes in some other countries where my app was bought. I honestly still don't get what I am really supposed to do... and nobody seems to be (at least the Microsoft Evangelists, MVPs, Forums, Colleagues and friends I talked with)... so I swapped the app back to free (beginning of October) and will probably never see the money.
The last month experiment

This last graph above is the overview of the last month. As you can see, there are 3 or four small peaks, two of which I can explain and which amount for about 600 downloads:
All about ratings
On the ratings front, I managed to earn the "fifth star" of almost half of my four star reviews by answering to the comments and sometimes updating the app with the given feedback.
Being nice to users also got me in touch with a German woman that proposed to rewrite the German translation almost from scratch (right there in the ego Tim * outch *)... and make some totally unexpected marketing for me on the German site DrWindows.de which got me about 50 additional downloads on one day.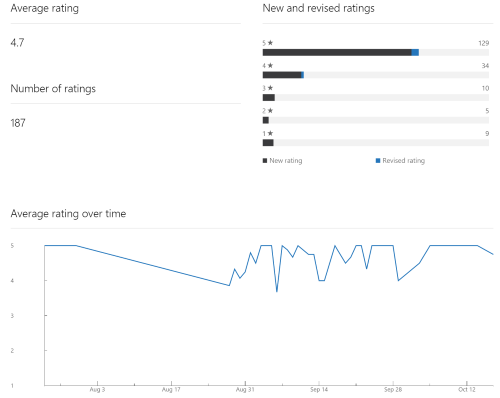 As you can see the App now has a 4.7/5 stars rating over 3 months, and 4.9/5 stars over the last 30 days. It really pays off to be nice!
Down the road
I won't be doing much work on ASN until Windows10 comes out on mobile phones. But I already got the feedback that it works there as well.
Will the app ever be paid again? I don't think so... but who knows. I'd rather it took off for free to see what the effects of being featured in the store or picked up by the site X or Y really are.
Any thoughts? Have you had similar experience already? Even for the concurrence... let me know!